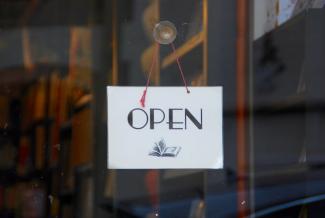 We're moving back in!
Many of our staff members will begin working from our physical office located at 239 Lincoln Way East on Monday, June 22, 2020.
Tax Deadline is 7/15/2020 – Picking up/Dropping off documents
Lobby—Our lobby will open for appointments only at this time. If you would like to schedule a time to pick up or drop off tax information, please call our office.
Drop box—We will continue to utilize a plastic drop box on our side porch by the side door/entrance. Please call our office to schedule a time to use the drop box so we can limit the number of people using the box at the same time.
Mail Slot—The mail slot in the front (wooden) door remains available for dropping off envelopes.
If you have a fever or are feeling ill, please call us and we will make other arrangements.
Options for Meetings
In-person outdoors—We have a patio table on our side porch that is set up for client meetings. Masks are optional for outdoor meetings.
In-person indoors—Our conference room and a separate reception desk are available for meetings. Masks may be required for indoor meetings.
Zoom—Do you miss the face-to-face interaction, but are not comfortable being around people? Zoom meetings offer a secure, virtual, face-to-face experience that is the next best thing to meeting in person.
Phone—We remain available to answer your questions by phone during our regular business hours of 8:00am – 4:30pm; Monday through Friday.
When entering our building
We have made improvements to our office for the protection of our clients and staff.
Shields: We have installed plastic shields on the two desks in our reception area.
Masks: We request that everyone who enters our building wear a mask when within 6 feet of another person. Our staff will also wear masks under this same guidance.
If you are at a higher risk for the COVID-19 virus or have any questions or concerns, please give us a call at 717 267 3572. We will do our best to work with you as we enter the next stage of our new better normal.